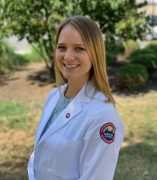 Haley Cropper
Graduate Student
Neurology and Rehabilitation
About
Haley Cropper is a graduate student in the Medical Scientist Training Program at UIC-COM. Before starting medical school, she received her Bachelor of Science in Biopsychology Cognition Neuroscience at the University of Michigan, and spent 2 years doing neuro-radiology research at Stanford University. There, she developed novel positron emission tomography (PET) tracers to study neuroinflammation in chronic pain, Multiple Sclerosis, and Alzheimer's Disease. She is now studying neuroimmune interactions in preclinical models of migraine and depression in the Pradhan Lab.
Advisor: Dr. Jeffrey Loeb
Selected Publications
Cropper HC, Stevens MY, Lucot KL, Chaney AM, Letchenberg KJ, Jackson IM, Buckwalter MS, James ML. Development of a CD19 PET tracer for detecting B cells in a rodent model of multiple sclerosis. Journal of Neuroinflammation. Published 2020 Jun.
Yang AC, Stevens MY, Chen MB, Lee DP, Stähli D, Gate D, Contrepois K, Chen W, Iram T, Zhang L, Vest RT, Chaney AM, Lehallier B, Olsson N, du Bois H, Hsieh R, Cropper HC, Berdnik D, Li L, Wang EY, Traber GM, Bertozzi CR, Luo J, Snyder MP, Elias JE, Quake SR, James ML, Tony Wyss-Coray. Circulatory proteins permeate the brain via selective transport impaired with age. Nature. Published 2020 8 Apr.
Cropper HC, Johnson EM, Cordonnier S, Haight E, Forman T, Chaney A, Stevens MY, Biswal A, James ML, Tawfik VL. Longitudinal TSPO-PET imaging of activated glia and peripheral myeloid cells in a mouse model of complex regional pain syndrome. Pain. 2019 Sep;160(9):2136-2148. PMID: 31095093
Chaney A, Cropper HC, Johnson EM, Lechtenberg KJ, Peterson TC, Stevens MY, Buckwalter MS, James ML. [11C]-DPA-713 versus [18F]-GE-180: A preclinical comparison of TSPO-PET tracers to visualize acute and chronic neuroinflammation in a mouse model of ischemic stroke. J Nucl Med. 2018 Jul 5. PMID: 29976695.