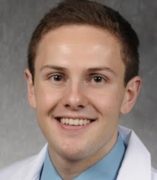 Joseph Geraghty
Graduate Student
Neurology & Rehabilitation
Contact
Building & Room:
COMRB 7140
Office Phone:
Email:
About
Advisor: Jeffrey Loeb
My main interests lie in neuroimmunology, cerebrovascular disease, neurocritical care, and the interactions between the central nervous system and peripheral organ systems (gut-brain axis, neurocardiology, etc.). My current research in the Loeb/Testai lab focuses on how intracranial bleeding drives neuroinflammatory processes which influence development of seizures and epilepsy. Using an endovascular perforation model of subarachnoid hemorrhage (SAH) coupled with long-term video EEG monitoring, I hope to understand how rupture of intracranial aneurysms plans a role in electrographic and cognitive impairment. I am also conducting various studies of inflammatory biomarkers in cerebrospinal fluid and serum samples from SAH patients admitted to our Neurosurgical ICU at UI Health.
Selected Publications
Geraghty JR and Testai FD. Delayed cerebral ischemia after subarachnoid hemorrhage: Beyond vasospasm and towards a multifactorial pathophysiology. Curr Atheroscler Rep. 2017;19:50.
Hobbs JG, Desai B, Young JS, Polster SP, Tobin MK, Geraghty JR, Linninger AA, Oyelese AA, Shin JH, Bydon M, and Mehta AI. Intramedullary spinal cord tumors: A review and discussion of surgical rationale. World Spinal Cord Journal 2:65-83, 2016.
Tobin MK, Geraghty JR, Engelhard HH, Linninger AA, and Mehta AI. Intramedullary spinal cord tumors: A review of current and future treatment strategies. Neurosurg Focus 39(2):E14, 2015. *co-first author