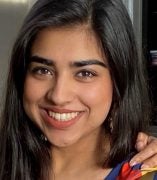 Anisha Nagpal
Graduate Student
Psychiatry
About
Anisha came to UIC in 2020 as an MD/PhD student in UIC's Medical Scientist Training Program. Currently, Anisha is completing the PhD phase of her dual-degree training under Dr. Eisenlohr-Moul in the Graduate Program in Neuroscience. Prior to joining the CLEAR lab, Anisha graduated from Johns Hopkins University with a major in Public Health Studies, concentrating in biostatistics. Anisha's research interests are in exploring the pathophysiology of reproductive mood disorders, computational neuropsychiatry, and developing analysis tools and methodology for large within-subject longitudinal data.
Advisor: Dr. Tory Eisenlohr-Moul
Selected Publications
Yang K, Longo L, Narita Z, Cascella N, Nucifora FC Jr, Coughlin JM, Nestadt G, Sedlak TW, Mihaljevic M, Wang M, Kenkare A, Nagpal A, Sethi M, Kelly A, Di Carlo P, Kamath V, Faria A, Barker P, Sawa A. A multimodal study of a first episode psychosis cohort: potential markers of antipsychotic treatment resistance. Mol Psychiatry. 2021 Oct 12. doi: 10.1038/s41380- 021-01331-7.