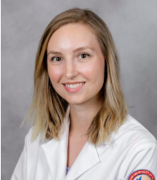 Amanda Snead
Graduate Student
Anatomy & Cell Biology
About
Amanda is a graduate student in the UIC College of Medicine Medical Scientist Training Program. Before starting medical school she worked in the Stem Cell and Cellular Models Platform headed by Dr. Andrew Sproul at Columbia University Medical center. She has a Master's of Science degree from the International Graduate Program Medical Neuroscience at Charité Universitätsmedizin-Berlin. Her thesis investigated the role of a presynaptic vesicular protein in docking and priming in the Lab of Dr. Prof. Christian Rosenmund. She graduated with Honors from Tulane University with a Bachelor of Science degree in Neuroscience. She is an advocate for Improved Medicare for All as the Education and Development Chair of Students for a National Health Program and she enjoys playing with dogs in her spare time.
Advisor: Dr. Swetha Gowrishankar
Selected Publications
Pera, M., Larrea, D., Montesinos, J., Guardia-Laguarta, C., Agrawal, R. R., Velasco, K. R., Xu, Y., Koo, S.Y., Snead, A., Sproul, E. & Area-Gomez, E. (2019). The C99 Fragment of App Regulates Cholesterol Trafficking. bioRxiv, 740670
Sun, J., Carlson-Stevermer, J., Das, U., Shen, M., Delenclos, M., Snead, A. M., … & Petersen, A. J. (2019). CRISPR/Cas9 editing of APP C-terminus attenuates β-cleavage and promotes α-cleavage. Nature communications, 10(1), 1-11.