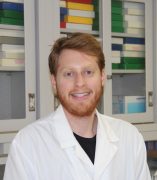 Russell Dulman
Graduate Student
Psychiatry
Contact
Building & Room:
SPHPI 342
Email:
About
I am an MD/PhD student generally interested in the development and treatment of psychiatric disorders with a focus on addiction. Specifically, I have three major research interests: 1) the molecular and epigenetic changes associated with regular and/or binge ethanol drinking that lead to the development of alcohol use disorder, 2) how epigenetics and the environment may be targeted in the successful treatment of substance use disorders and 3) the underlying genetic and epigenetic vulnerabilities that shape the risk of development of substance use disorders and other comorbid psychiatric disorders.
Mentor: Dr. Subhash C. Pandey
Selected Publications
Dulman RS, Wandling GM, Pandey SC. Epigenetic mechanisms underlying pathobiology of alcohol use disorder (2020). Current Pathobiology Reports 8: 61-73.
Dulman RS, Auta J, Teppen T, Pandey SC. Acute Ethanol Produces Ataxia and Induces FMR1 Expression Via Histone Modifications in the Rat Cerebellum (2019). Alcoholism: Clinical and Experimental Research 43(6): 1191-1198.
Augier E, Barbier E, Dulman RS, Licheri V, Augier G, Domi E, Barchiesi R, Farris S, Natt D, Mayfield RD, Adermark, L, Heilig M (2018). A Molecular Mechanism for Choosing Alcohol over an Alternative Reward. Science 360(6395): 1321-1326.
Augier E, Dulman RS, Damadzic R, Pilling A, Hamilton JP, Heilig M (2017). The GABAB Positive Allosteric Modulator ADX71441 Attenuates Alcohol Self-Administration and Relapse to Alcohol Seeking in Rats. Neuropsychopharmacology 42(9):1789-1799.
Augier E, Dulman RS, Singley E, Heilig M (2017). A Method for Evaulating the Reinforcing Properties of Ethanol in Rats without Water Deprivation, Saccharin Fading or Extended Access Training. Journal of Visualized Experiments 119.
Augier E, Dulman RS, Rauffenbart C, Augier G, Cross AJ, Heilig M (2016). The mGluR2 Positive Allosteric Modulator, AZD8529, and Cue-Induced Relapse to Alcohol Seeking in Rats. Neuropsychopharmacology 41(12): 2932-40.
Park SM, Chen M, Schmerberg CM, Dulman RS, Rodriguiz RM, Caron MG, Jin J, Wetsel WC. (2015). Effects of β-Arrestin-Biased Dopamine D2 Receptor Ligands on Schizophrenia-Like Behavior in Hypoglutamatergic Mice. Neuropsychopharmacology 41(3): 704-15.
Augier E, Flanigan M, Dulman RS, Pincus A, Schank J, Rice K, Kejun C, Heilig M, Tapocik J. (2014). Wistar rats acquire and maintain self-administration of 20% ethanol without water deprivation, saccharin/sucrose fading, or extended access training. Psychopharmacology 231(23): 4561-8.
Dasgupta S, Castro L, Dulman RS, Yang C, Schmidt M, Ferro E, Fricker L. (2014). Proteasome inhibitors alter levels of intracellular peptides in HEK293T and SH-SY5Y cells in unpredictable ways. PLoS ONE 9(7): e103604.
Notable Honors
2020, National Research Service Award Predoctoral F30 Fellowship, National Institute on Alcohol Abuse and Alcoholism (NIAAA)
2019, Travel Fellowship Award, Society of Biological Psychiatry (SoBP)
2018 and 2019, Student Merit Award, Research Society on Alcoholism (RSoA)