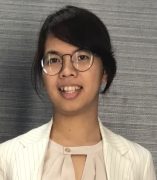 Yanti Manurung
Graduate Student
Anatomy & Cell Biology
About
Yanti received her Bachelor's degree in Psychology and Biology from Swarthmore College in 2020. Prior to joining UIC, Yanti spent two years as a research technician at Northwestern University where she conducted single cell tracing of SNc dopaminergic neurons in the context of Parkinson's disease and studied the regulation of injury induced enhancers in Schwann Cell.
Advisor: Dr. Orly Lazarov
Selected Publications
Ramesh, R., Manurung, Y., Ma, K. H., Blakely, T., Won, S., Ramos, O. M., … & Svaren, J. (2022). JUN Regulation of Injury-induced Enhancers in Schwann Cells. Journal of Neuroscience.
Lin, L. Y., McCarthy, S., Powell, B. M., Manurung, Y., Xiang, I. M., Dean, W. L., … & Yatsunyk, L. A. (2020). Biophysical and X-ray structural studies of the (GGGTT) 3GGG G-quadruplex in complex with N-methyl mesoporphyrin IX. PloS one, 15(11), e0241513.