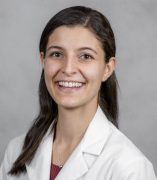 Michelle Sheena
Graduate Student
Psychiatry
About
Michelle is currently a graduate student in the Medical Scientist Training Program (MSTP) at UIC. She graduated from Tulane University in 2016 with a BS in Neuroscience, and double minors in Spanish and Studio Art. Her research in the Burkhouse/Ajilore lab focuses on family history of psychopathology and the effect on children's neural responses (fMRI/EEG) and how to visualize these responses in higher dimensions. She is also interested in the health humanities and medical education.
Advisors: Dr. Katie Burkhouse & Dr. Olusola Ajilore
Selected Publications
Sheena M, Lewis E, Fears N, Lockman J. Strategies for Orienting Objects: Success and Efficiency During Hand-to-Mouth Transport in Infants. Poster presented at: Society for Research in Child Development; April 8, 2017; Austin, TX.
Kaylan KB, Russel SM, Justice C, Chunara ZS, McGinn LS, Mehta NA, Patil SN, Seyller HR, Sheena MK, Curry RH.  Applying the lean startup method to structure project-based, student-driven curricular enhancements. Accepted for presentation before the Central Group on Educational Affairs, Association of American Medical Colleges; Rapid City, South Dakota, March 2020  *not presented due to Covid-19 cancellation